Terence Foo and Sze Yin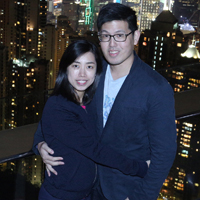 Hi, my name is Terence Foo. I am the son of Mr. William Foo and Mrs. Eileen Goh, Reliv Ambassadors from Malaysia. I turn 30 years old this year and I am a pharmacist by profession working in Johor Bahru, Malaysia.

My parents have been consuming Reliv products on a daily basis for the past 12 years. I have noticed that they are able to maintain their good health and also look younger while maintaining stable financial rewards from Reliv.

As for myself, initially I was reluctant to try Reliv products. In December 2015, I realized I was in dire need of proper nutrition and diet modifications as I was suffering from minor insomnia issues and experiencing slight constipation and hemorrhoids. Since then, I have been consuming Reliv Now every day without fail for 6 months. The results I notice are very encouraging.

Immediately, my constipation issues were resolved significantly with improved bowel habits. I used to have mildly elevated cholesterol levels despite exercising regularly and regulating my diet. Nevertheless, after consuming Reliv Now for about 3 months, my cholesterol levels were noticeably reduced to healthier levels, as shown in my annual medical check-up this year.

With Reliv Now, my overall health has upgraded to a more refined and sustainable state, I experience less illness and improved health and wellness.

Thus, I strongly believe this product provides optimum nutrients to nourish my body. I will continue to take Reliv products for the rest of my life and I have faith that this is the complete supplement that has proven results for me.