Tan Seaw Hong & Lee Siew Nai, Malaysia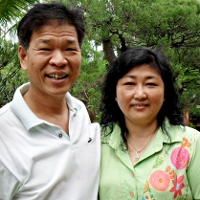 It's always been a long workday for Mr. Tan Seaw Hong who is a hawker selling noodles. "It's hard work," he says. "It causes my shoulder to hurt and drains my energy. Mr. Tan believes in supplements and has been taking them for more than 30 years but after a month of taking Reliv's essential nutrition, his energy levels increased and friends told him that his complexion had improved and that he was looking younger.

Mr. Tan confesses that he used to drink too much beer. "But during Chinese New Year, I was able to cut down from four cans a day to two cans a week," stated Mr. Tan proudly. "Now I no longer have a desire to drink so much beer."