Suhailah Ibrahim of Malaysia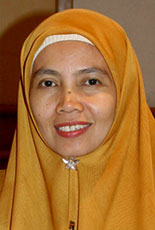 Suhailah Ibrahim of Malaysia is very passionate about her career as a kindergarten teacher but her kidney problem has kept her less able to follow her well-loved vocation. She used to experience difficulty getting enough sleep at night and wakes up feeling exhausted and weak.

"Reliv helped me get back on my feet!" shares Suhaila. "I was able to get a good night sleep after taking the Reliv basic nutrition products for the first time. And since then, I've been taking my Reliv shakes everyday and I kept feeling better each day."

Suhaila shares that her kidney problem symptoms have also improved since she started taking Reliv and this gave her more reasons to be jolly and have a more positive outlook in life. "A healthy body makes you worry-free and lets you enjoy your life more. When you're feeling as good as I do, you become more productive at work and you inspire other people."