Sri Lies Lestari - Indonesia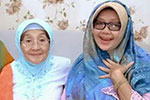 Hi my name is Sri Lies Lestari, I'm 69 years old and I am a sosial activist. I'm very busy and have a lot of activities with my organisation like singing, dancing, etc.

Before Reliv: I grew very concerned when I began to experience achy joints and discomfort in my feet. I was also dealing with discomfort in my knees, I could not get up and down the stairs or wear high heels – how can I dance without my high heels?

After Reliv: After only a short time on Reliv, my feet felt so much better. The discomfort drastically lessened. My knees have significantly improved. My heart health and cholesterol are at healthy ranges and what I like best about Reliv, is that I now get a good night's sleep every night! It's amazing how Reliv nutrition and supplementation has improved my overall health. I will never stop taking my shakes.