drg. Shirley Mathilda Ingrid - Indonesia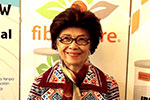 Hi my name is drg. Shirley Mathilda Ingrid. I was diagnosed with breast cancer in 1992. I was cancer free until 2009, that is when my cancer became active again.

Before Reliv: I was still suffering from chronic fatigue from all the chemotherapy, and this was the hardest time I have ever gone through in my life. I needed good nutrition to help keep my body healthy. I tried various nutritional supplements but nothing worked.

After Reliv: Praise to the Lord, I was introduced to the Reliv products! Reliv Now and LunaRich X - this combination of Reliv products was a blessing!! I was feeling so much better than I had for a long time! I've taken the products for three months and I have already started to feel the health benefits. I am now able to do normal activities, like any other healthy person. Reliv has given me new hope. Don't give up!!! If it's taking longer than you expected to see results, don't lose faith. Sometimes the best things take a little extra time. I'm so glad I didn't give up and lose faith, if I had, I wouldn't be experiencing great health today! I Thank God each day for my health and for leading me to Reliv.