Sherry Sjiamsuri - Indonesia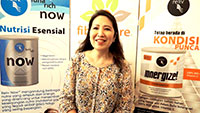 Hi my name is Sherry Sjiamsuri.

Before Reliv: I have always had horrible seasonal allergies. My immune system has also been weak and I've often caught the flu.

After Reliv: I have noticed a difference in my overall health and I know my immune system has strengthened. I can definitely tell a big difference during allergy season. I have a lot more energy and I have more endurance when I exercise. Since starting Reliv in 2007, I've noticed that my seasonal allergies no longer limit me from enjoying my life. Additionally, my cholesterol is lower and Reliv has helped improved the joint function in my knee and ankle. I love Reliv so much! Thank you Reliv.