Shafinaz Binti Ayob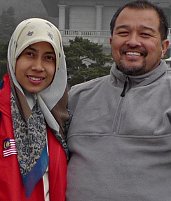 A month after trying the Reliv products, Shafinaz Binti Ayob of Brunei made a decision that will change her life. She turned from a skeptic to a passionate business-builder.

"Reliv changed my perspective about network marketing," shares Shafinaz. "At first, I thought it was just all about selling products and earning profit. But as I realized how unique and effective the Reliv products are, I also recognized that the company offers an unparalleled business opportunity that is equally fulfilling and rewarding."

Shafinaz builds her Reliv business from home and works around her family's schedule. Barely a year in building her Reliv business part-time, Shafinaz has already advanced to Key Director level and rapidly expanding her organization.