Janto of Jakarta, Indonesia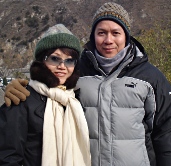 Janto of Jakarta, Indonesia, had to undergo a strict diet just to help manage his high cholesterol and high uric acid levels.

"It wasn't fun to watch others eat while thinking that you have to follow your meal plan for the day. But what's more gloomy was to think that your health depends on a lifetime of medicines," shares Janto.

His wife Ratna, on the other hand, would usually complain about getting tired after engaging in short workouts at the gym. "She almost got discouraged from exercising as her attempt to be fit and healthy would give her the worst feeling," narrates Janto.

"After three days of taking the products, Ratna started noticing her increased energy and felt she could do more even after long sessions in the gym.