Ida Bagus and Gusti Ayu- Indonesia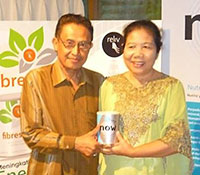 Hi my name is Gusti Ayu and my husband is Ida Bagus.
Before Reliv: I had so many health issues. I was dealing with cholesterol, acute sinusitis, uric acid. My husband's blood sugar management was out of control. His glucose levels ranged between 300-500.

After Reliv: We started on Reliv sets of three (Reliv Now, FibRestore and Innergize) within 2 months our health started to improve. My husband's blood sugar levels were back into a healthy range. My health issues were improving including my cholesterol. The discomforts I felt lessened. I feel in love with Reliv. The Reliv products significantly improved our overall health. Amazed with the Reliv products, we decided to share our story with everyone we meet especially, our family and close friends who knew about our health problems.
We then started to share Reliv with our colleagues and everyone else that was interested. We are very enthusiastic with our Reliv business. We share Reliv from our heart, when we talk about Reliv we tell them about the results we've experienced. We started inviting people to the meetings and our business took off from there. In one month, we became Master Affiliates and won a car which was valued at 45.000 Ringgit Malaysia.
We keep our focus on the business and the Reliv system. Two months after, in February 2010, we because Key Directors and won first place, earning an 8,888 Ringgit Malaysia bonus. We have also achieved a Dr. Ted Humanitarian award, Kalogris award and the 6 Star Director award. This was the beginning to our journey to a healthier and happier lifestyle.