Halim Winataatmadja, Indonesia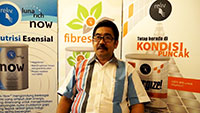 Hi my name is Halim Winataatmajaya.

Before Reliv: I suffered from Gastroesophageal reflux. Every month, I'd have to go see my doctor to help control my health problem. My father-n-law had a stroke, memory loss and had very limited mobility.

After Reliv: In 2007, I was introduced to Reliv. Two weeks after starting on the basic nutrition, Reliv Now, FibRestore and Innergize, I received amazing results. My father-n-law only forty-five days into Reliv, was able to start moving more. He was able to walk and do some activities around the house. Over time, Reliv built up and strengthened his immune system. He is not able to travel with me and my family. I give God the glory and thank Him for bringing Reliv into my family. Now each month, I feel better and continue to see improvements. Reliv has given me back my life and has given me hope for the future.