Dr. Widjaja Harjanto Jahjadan Tjendrawati Guawan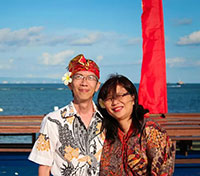 I have a problem with being underweight. There are many reasons why adults are underweight. I am genetically skinny where I have higher metabolism rate in comparison to others, that is why my body was underweight. Before I joined Reliv, my weight is 47 KG, I ate a lot of extra food, took several kinds of supplements and medicine. I was also tired in the mornings so I would sometimes drink two cups of coffee to keep me alert while during drive my car to my clinic.

After taking Reliv Now®, I started putting weight back on. I currently weigh 57 KG and feel much better! I now wake up in the mornings feeling energized and ready to take on the day no longer feeling the need to drink coffee in the mornings. Because of Reliv, I feel healthier and look healthier! Thank you Reliv!