Evelyn Tan of Singapore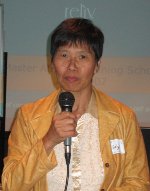 Evelyn Tan of Singapore was suffering from menopausal symptoms for two years when she was introduced to Reliv in December 2006. She experienced a lot of discomfort that affected her work and daily activities.
"I experienced depression and hot flashes for two long years. Oftentimes, I easily became irritated and hot-tempered. I would feel down every day and people around me would be affected by my mood swings," recalls Evelyn. "I also had irregular sleeping patterns. I would always wake up in the middle of night and tired every morning and it was very hard to accomplish my daily activities both at home and in school."

"After only a month of taking the products, Evelyn says, "I realized that my attacks of hot flashes decreased and I felt more energetic. My sleeping pattern became normal and I started enjoying uninterrupted sleep.