Brothers' Bond in Reliv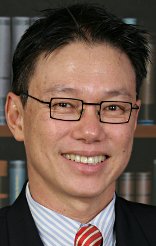 Bronze Ambassador David Ho of Kuala Lumpur, Malaysia, has made it his mission to share blessings and affect other people's lives the same way that Reliv has touched his.
For more than 20 years, David and his twin brother, Horas, suffered with back pain that made daily activities difficult. David recalls how the backache would get so bad that he had to wear a back brace corset at work and take painkillers to get through each flight as a flight attendant!
David gave Reliv a try when Horas shared the products with him. He signed up at the Master Affiliate level in August 2005 since he knew he would be taking the products for the rest of his lives. His belief in the products intensified every time someone got great results from the products and thanked him for sharing Reliv.